Karin Bijsterveld
Biography
Karin Bijsterveld is historian and professor in the Department of Technology and Society Studies, Maastricht University. She is author of Mechanical Sound: Technology, Culture and Public Problems of Noise in the Twentieth Century (MIT Press 2008), and co-editor (with José van Dijck) of Sound Souvenirs: Audio Technologies, Memory and Cultural Practices (Amsterdam UP 2009). With Trevor Pinch, she has co-edited The Oxford Handbook of Sound Studies (Oxford UP 2012). Bijsterveld is currently coordinating the NWO-VICI project "Sonic Skills: Sound and Listening in Science, Technology and Medicine." She has edited Soundscapes of the Urban Past: Staged Sound as Mediated Cultural Heritage (Transcript Verlag, 2013), and is co-author (with Eefje Cleophas, Stefan Krebs and Gijs Mom) of Sound and Safe: A History of Listening Behind the Wheel (Oxford UP, forthcoming 2014).

Abstract:

Archived Sound and Authenticity: Reflections on the Amsterdam Soundscape Installation and Auditory History
In March 2013, the Amsterdam Museum opened an installation that simulates the soundscapes of the Dam Square in 1895 and 1935, and compares these with a 2012 recording of the Dam. The installation has been made with help of the Virtual Soundscapes Builder© of the acoustic consultancy firm Harris, Miller, Miller and Hanson (HMMH). Their software is normally used to simulate future soundscapes such as the soundscape of an airport after the establishment of a newly planned runway. In this case, however, virtual acoustics was instrumental in creating a simulation of soundscapes of the urban past. Making binaural recordings of historical artifacts and acoustically adjust these recordings to the Amsterdam setting were just two of the requirements. This lecture will take the experiences of the Maastricht University Soundscapes team that did the auditory history research for this installation as a starting point for reflections on the use of sound in history museums. These reflections will focus on issues of authenticity, dramatization, embodiment and sensory instruction.
David Hendy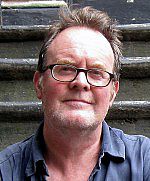 Biography
David is a media historian interested very broadly in the role of sound, images, and communication in human cultures across time. He's especially interested in the role of modern 'mass' media – radio, the press, cinema, television, the internet – in shaping popular life and thought in the 19th, 20th and 21st centuries.
He studied history at St Andrews and Oxford universities before joining the BBC in 1987 as a journalist and producer. At the BBC he worked on The World Tonight and Analysis on Radio 4. From 1993 to 2012, he taught at the University of Westminster in London.
David is currently a Leverhulme Research Fellow (2011-2013). He's writing Media and the Making of the Modern Mind, which will be published by Oxford University Press in 2015, and a 30-part series for BBC Radio 4, which begins in March 2013. The series, called Noise: a Human History, traces the role of sound and listening in social life from prehistory to the present-day.
Abstract:
'An Archive of Emotions: the Great War, Noise, and the Origins of the BBC' 
What happens to our understanding of the formative years of broadcasting if we turn our attention to the emotional life of the era? How, for instance, might archival sources reveal ideas about stress, homesickness, and shame – all themes discussed recently by historians of the emotions? How, too, might this material cast new light on the BBC's first generation of producers and managers, and what they saw as their goals in creating a new cultural force in the land? One key influence on this generation of men and women was the First World War. But it wasn't the only one. Drawing on personal memoirs and private letters, and placing them in the context of new work on the emotions, this talk asks whether the emotional climate of the early 20th century was distinctive and new – and, if so, whether it should inform our narrative or ideological accounts of radio in this era.
Michele Hilmes
Biography
Michele Hilmes is Professor of Media and Cultural Studies in the Department of Communication Arts at the University of Wisconsin-Madison.  Her work focuses on media history and historiography, particularly in the areas of transnational media and sound studies.  She is the author or editor of several books in this field, including Radio Voices: American Broadcasting 1922-1952 (1997), Network Nations: A Transnational History of British and American Broadcasting (2011),  Only Connect: A Cultural History of Broadcasting in the United States (4th edition, 2013), and Radio's New Wave: Global Sound in the Digital Era, co-edited with Jason Loviglio (2013).
Abstract:
Sound on Screens:  The Digital Soundwork Industry and the Archive as Network
Audio's present era is marked by a transformative new materiality, as digital platforms finally overcome the ephemerality that once made sound-based forms so hard to capture and assess; a new mobility, as soundwork moves across devices and into new spaces; and by a new globalism, as digital accessibility unleashes soundwork and extends it well beyond its former local and national boundaries.  And given the ability of digital files to create perfect copies that circulate easily and widely, the soundwork archive has been transformed.  Sound has become a visual medium, in terms of its interface, its persistence, and its modes of use.  And visualized digital archives effectively operate as networks, connecting information and users across a wide variety of platforms and borders.  Here I look briefly at three innovative initiatives in sound archiving and networking, based in the United States but circulating global content:  PRX, the Public Radio Exchange; the Third Coast International Audio Festival, and Audible.com.
Lev Manovich
Lev Manovich (www.manovich.net) is a Professor at CUNY Graduate Center and founder and director of Software Studies Initiative. He is the author of Software Takes Command (Bloomsbury Academic, 2013), Soft Cinema: Navigating the Database (The MIT Press, 2005), and The Language of New Media (The MIT Press, 2001) which is described as "the most suggestive and broad ranging media history since Marshall McLuhan." Manovich is a Professor at The Graduate Center, CUNY and a Director of the Software Studies Initiative at CUNY and California Institute for Telecommunication and Information (Calit2). Homepage.
Abstract: 
Looking at two million Instagram images:  How visualization of big cultural data helps us to question our cultural categories.
How can we do research with massive visual collections of user-generated content containing billions of images? What new theoretical concepts do we need to deal with the new scale of born-digital culture? How do we use data mining of massive cultural data sets to question our cultural assumptions and biases, and "unlearn" what we know?
In 2007 I established Software Studies Initiative (softwarestudies.com) to begin working on these questions. I will show examples of our projects including analysis of 1 million pages from 887 manga books, 1 million artworks from deviantArt (online community for user-created art), and 2.3 million Instagram photos from 13 global cities. I will discuss how computational analysis and visualization of big cultural data sets leads us to question traditional discrete categories used for cultural categorization such as "style" and "period." I will also address a fundamental question we face when researching social media:  is it a "window" into social reality, a reflection of lifestyle of particular demographics, or an effect of software itself?
Links:
http://lab.softwarestudies.com/2008/09/cultural-analytics.html
http://lab.softwarestudies.com/2010/11/one-million-manga-pages.html
http://phototrails.net/